My first post here. I've built simple combustion spud guns and pen cannons before, but I'm wanting a good summer project and thought of a more complicated design- a semi auto spud gun. I'm not great at electronics so I wanted a mechanical system to load/reload, prime and shoot. After many, many (many) ideas this is what I've thought so far and just wanting to run it past you more experienced guys to see if I've missed something in the design. It's based on an open bolt action with bits of a blow forwards action mixed in.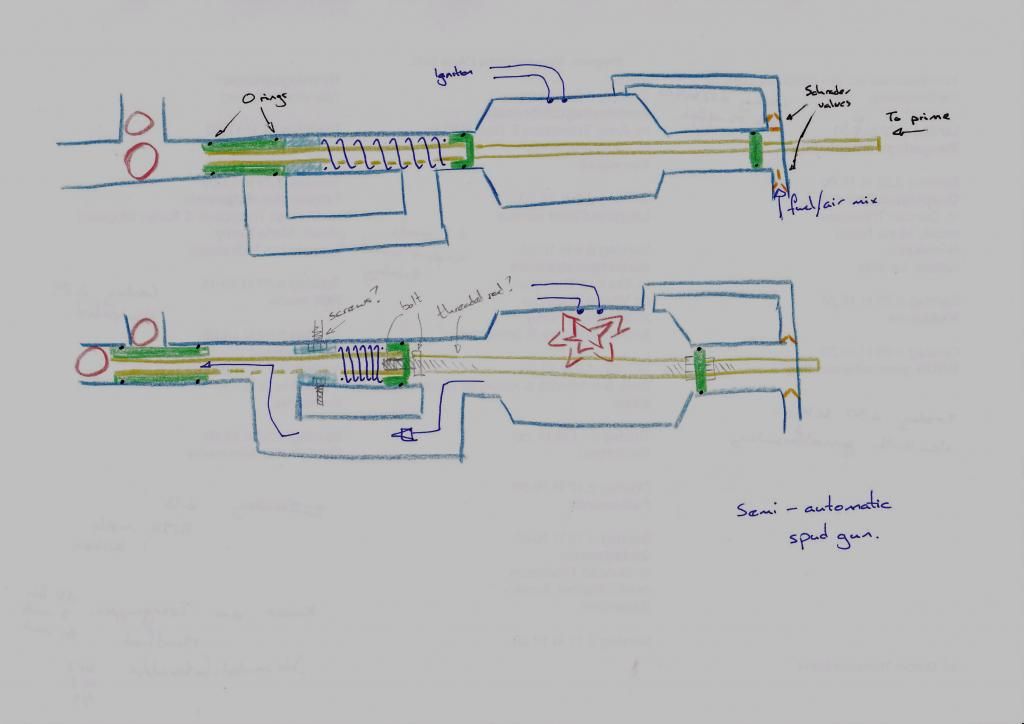 The top drawing shows the gun unprimed. From left to right we have the ammunition (red ball) in a vertical gravity or spring magazine, ready to be shot out of the left hand end (barrel). The bolt/plunger is in green. The lighter inner part of the bolt is perforated so that when it moves over the D-section it allows the combustion gases to enter the barrel. Behind this section we have the spring housing. The spring is located on behind a plunger/valve so that the explosion will force it up the barrel opening the D-section and closing the ammo tube at the same time. Whilst that happens at the right hand end we have a primer, which as the bolt moves to the left will suck a fuel/air mix into the priming chamber from a slightly pressurised tank. Once it is fired and the gases exhausted out of the barrel, the spring moves the bolt back into to place and pumps the fuel from the priming chamber into the combustion chamber, ready to be fired again.
I can't see why the mechanics shouldn't work. To make it full auto, a contact is placed in the bolt and one in the chamber, though there's a slight problem with getting the first shot to spark, not that I'm really interested in full auto.
However I've a few questions:
1 - where to get a spring that can both prime the gun and be soft enough to move with the combustion? Is it possible with a simple butane/propane fuel?
2 - I'm a little worried about blow back - i.e. the explosion traveling into the priming chamber. The schrader valve ought to elimate that, but still not sure.
3 - how on earth to put together such a design....
4 - that I've missed something and the design will just not work.
So please and feedback would be greatly appreciated.