I've done a lot of work on this launcher over the break, on seals, burst disks, sabot catching, and the vacuum system for the barrel (which now works perfectly). The first shot of the break was fired today, using an optimized UHMWPE sabot weighing 3.66g to carry a 1/4" hardened steel ball (the mass of the total assembly was 4.72g).
The round is sitting on the burst disk used for this shot, 0.024" thick 7068 aluminum.
The predicted muzzle speed was 1700m/s, and based on previous results with WARTL, I didn't expect it to come close to penetrating the 3/8" steel plate. You can imagine my surprise when this happened: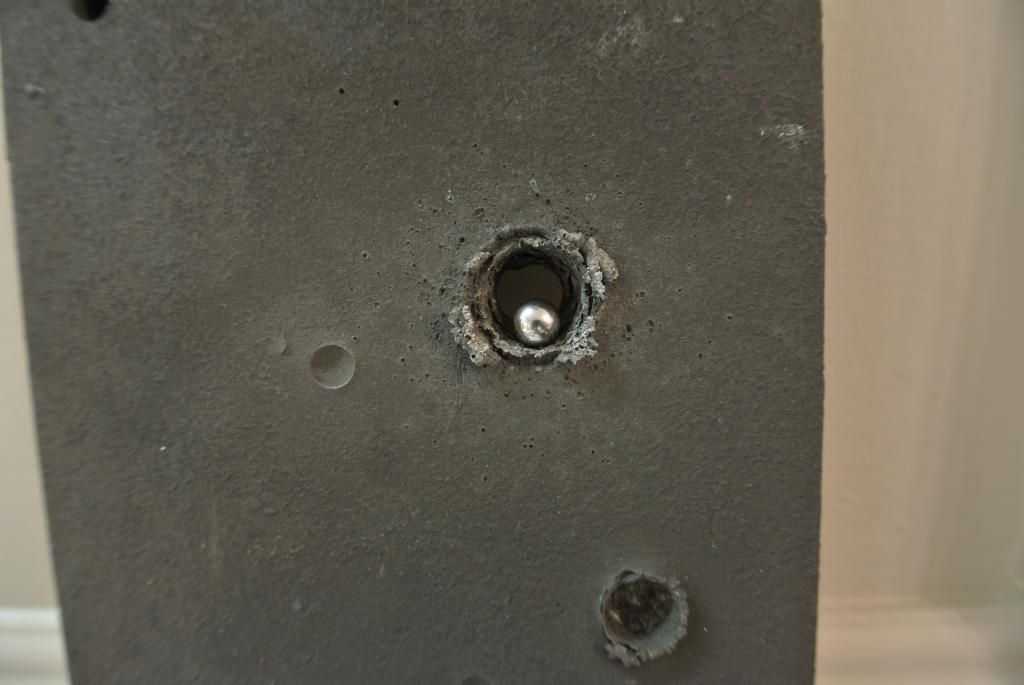 The round in the hole in the second picture is for size comparison, the small crater on the bottom right is from a WARTL shot in 2011 with the same projectile.
The sabot catcher wasn't very well thought out, and all that UHMW spraying out to the sides destroyed part of the barrel vacuum assembly:
That groove wasn't there before, and the sealing face used to be perpendicular to the axis of the threads. On the plus side, only a few milligram scale fragments of the sabot escaped the catcher, and only two of the parts I accidentally destroyed will take long to replace. My estimate of ten shots this break may have been somewhat optimistic

Oh, and for anyone who's counting, that's the fastest shot fired by a hybrid on Spudfiles by a margin of about 700m/s