Here's the latest mini (no, rly?). It's modeled after the Cobra Venom by Moonbogg. I was aiming for it to be nearly identical but several things got in the way:
-You can't buy 3mm camlocks, and my drill press was broken so I couldn't make a union
-Epoxy wouldn't have appreciated the anodizing
-You can't get 2mm ballvalves (please don't mention sprinkler/dripper valves, as they are crap. This was replaced with a check valve.
Though I did manage:
-All aluminum (except for the chamber cap)
-Over/under configuration with a nice looking support
-working spark gaps that don't shock the rubbish out of you
so..
Chamber: 9 mm id, 2.5cm long (it's longer, though plugs occupy a fair bit of space)
Barrel: 3.5mm by 12cm
Over/under configuration
2 spark gaps
Chamber fan replaced by check valve
Fuel: propane/mapp, soon to be oxygen and hydrogen
Of course fueling this thing is darned hard, probably harder than building it. Metering out the correct amount of fuel would be close on impossible to get right.
So fueling will be carried out by a blowtorch, using a premixed fuel mixture to purge the chamber, or a stoichometric oxygen-hydrogen mix..
So I guess you want some pictures..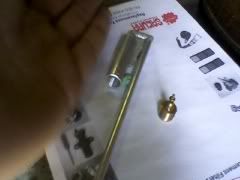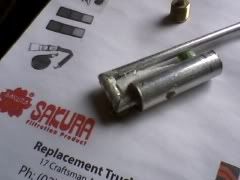 Mid construction pictures, on a 1/2 A4 sized piece of paper.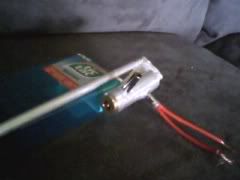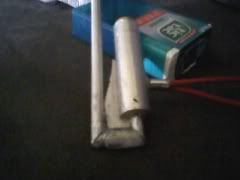 Posing on a tictac packet (smaller size)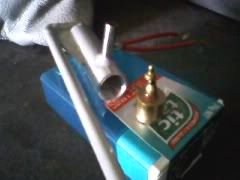 Chamber plug removed, showing the back of the check valve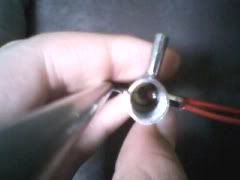 Inside the chamber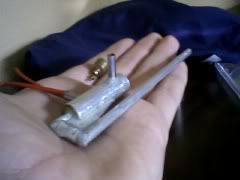 Back shot..chamber plug removed
So. Lemme know what ya think. Haven't even tried to fire it yet.
Got a good cannon you want me to make a mini of? PM me.
Edit: the photos don't show it up well. It's nice and shiny..